Site Prep & Delivery
It's been said that difficult roads lead to beautiful destinations and we couldn't agree more...
Beautiful Destinations
Our delivery and set up team is passionate about making sure that your building reaches its destination in a timely and safe manner.

We're accustomed to dealing with the challenges that beautiful destinations sometimes present.


And we're committed to ensuring that you are completely satisfied with your building's placement.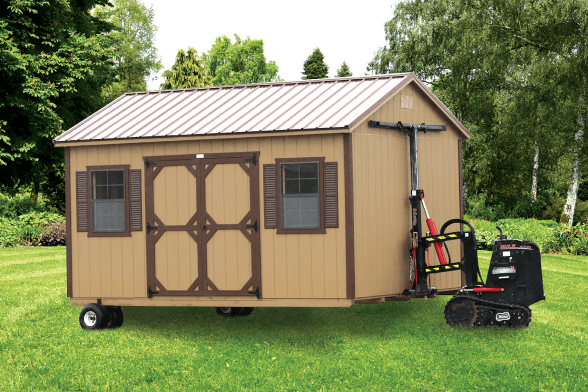 Minimal Delivery Footprint
We strive to minimize our delivery footprint by using a lightweight piece of equipment called a Mule.

The Mule is a maneuverable forklift device that helps place buildings in tight locations.

The tracks left behind by the Mule are similar to those of a large mower.
Site Preparation
We recommend between 4 to 6" of crushed limestone to provide a pad for your building's foundation.

The pad should be at least 2 ft wider and 2 ft longer than your shed.

For tiny houses and cabins, we can optionally install a sonotube foundation. Feel free to call for price quotes or additional information.